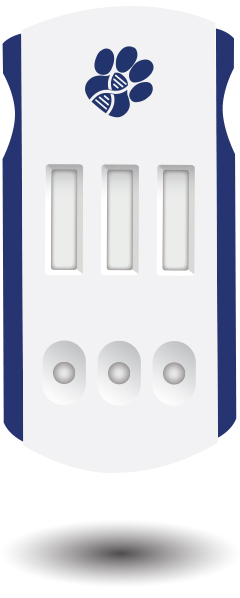 Why Should You Use RapidSTATUS™ Kits by Biotech Diagnostics?
Biotech Diagnostics' RapidSTATUS™ test kits key features include…


Frequently Asked Questions
Are EDTA tubes required when collecting samples used for your FIV tests?
Yes when you are collecting blood samples should should be collected in EDTA tubes.
Will the test kits provide EDTA tubes like the Antigen kits?
No. We do not provide blood collection tubes in any of our kits. Any EDTA or heparin tubes can be used (both are indicated in the direction insert).
Can CPV Ag and Giardia Ag buffers be interchanged?
You can exchange fecal samples Parvovirus Antigen and Giardia Buffers.
Can FIV and CHW Chase buffers be interchanged?
Yes. The FIV and CHW chase buffers are interchangeable.
For parvo antibody titres, what number (ie. 1-10) equates to the titre of > 1:80 that is considered a "high level" of antibodies.
The faint pick/red line detected by eyes is considered low positive sample This sample will have minimum of HI titer 1:80. This is considered lowest HI 1:80 titer.
Can the Canine Heartworm test be used for feline patients?
Yes. The Heartworm test can be used for both Canine and Feline patients.
Can the Canine Giardia test be used for feline patients?
Yes. The Giardia test can be used for both Canine and Feline patients.
Is the CPV Ab Test the same as the FPV Ab Test?
Yes. They are the same tests.
How do I do an Antibody Test with Biotech Tests?
What other vets are saying about our tests...
I have used many of the new Biotech diagnostic tests for over six months. The tests are quick and simple to use and deliver dependable results in about ten minutes. The Biotech range of tests gives me the answers I need to determine the presence of a wide range of antibodies and antigens in my patients. I can choose the test that is most appropriate for my patients and analyze the blood while my clients are still in the hospital. A valuable offering to stimulate return business.
The SPCA Christchurch Veterinary Clinic evaluated the rapid point of care diagnostic tests. We are very impressed by the speed of results with the Biotech RpaidSTATUS tests (a positive result usually showed within three minutes). From our small in-house study we can conclude 100% specificity and 100% sensitivity rates. We tested two known Fel-O-Vax FIV vaccinated adult cats (thier most recent booster vaccinations were received three months prior, and ten months prior). Both tests returned negative on the Biotech RapidSTATUS tests and strongly positive on an alternate FIV/FeLV Snap test, showing no vaccination cross-reaction in Biotech tests.